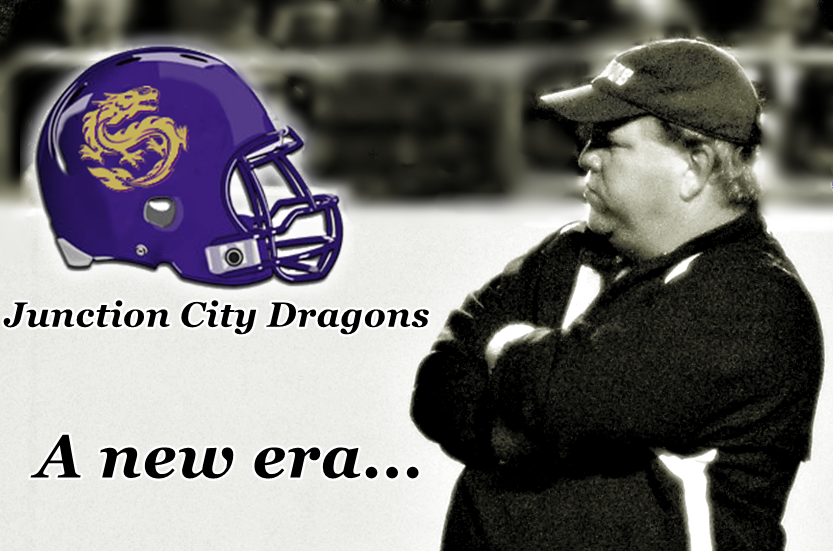 Congratulations Coach Smith!
JCSD
Tuesday, February 12, 2019
JUNCTION CITY, Ark. – The Junction City School Board has announced that it has reached an agreement with current defensive coordinator Brad Smith to be the new Head Coach of the Dragon Football program effective immediately.
"I am very pleased that Coach Smith has gotten the job. He has been a very big part of our success and I know he will continue it." said Athletic Director David Carpenter when asked what his thoughts were concerning hiring Brad Smith as Head Football Coach.


"This is something that I have always wanted," remarked Smith. "It is a program that has maintained success for over two decades with solid runs in the playoffs. This program is a credit to what Coach Carpenter has built here and I knew I always wanted to come back here and coach."


A 1982 graduate of Junction City, Smith arrived back in the Bordertown in the fall of 2003 after spending the previous decade as an assistant football coach at Ruston High School, including his final seven seasons on staff with the Bearcats Senior High Football program.
As the Dragon's defensive line coach and special teams coordinator from 2003-08, Smith helped lead Junction City to an overall record of 67–11 with four conference championships (2003, 2004, 2006, 2008) and a 21-4 mark in the state playoffs which included a pair of state titles (2003, 2008), a state runner-up finish (2006) and five trips to the state semifinals.


Smith took over as the Dragons' defensive coordinator in 2009 and that season showcased one of the best defenses in program history. Under Smith, the '09 Dragons recorded a school-record nine shutouts which included opponents suffering through 22-straight quarters of scoreless football.


In the 2009 season opener, Junction City surrendered just six points to eventual Class 3A State Champion Fountain Lake and when the smoke cleared 13 games later, that year's defense had allowed just 53 total points (3.8 ppg); the fourth-best mark in school history. Of those 53 points, 20 were scored in the regular season, while 28 were scored in two meetings by Class 2A State Runner-Up Bearden.


Smith's defenses, in his ten years as defensive coordinator, have helped the Dragons to a 110-18 mark over the past decade by holding opposing offenses to 10 points or less on 72 occasions with 38 of those being shutouts.


In all, since Smith's tenure at Junction City began in 2003, the Dragons have amassed an overall record of 177-29 with a 53-9 record in the state playoffs in addition to winning ten conference titles, and seven state championships in nine appearances.
In a dozen of those 16 seasons, the Dragons have advanced to at least the state semifinals. Additionally, Smith is the only coach to have been on staff for all nine of the Dragons' state championship game appearances.


A key fixture of the Dragons' dynastic run which began in the mid-90s, Smith, who served as the head coach of the Junior High program from 2003-16, credits the players, past and present, as to why the program has been and is so successful. "The kids that come through these doors. It [the program] is strong because of the character of the kids, noted Smith. "The kids that are involved are not lazy. They can't be. Laziness is not accepted here. You have to work and you have to be ready to work."


When asked about his plans offensively, Smith, who becomes the third head coach of the Dragons in the past four seasons, responded confidently. "For now we will use the spread that we ran in 2012 and merge it with what we are doing now. If we can throw it we will, but we will still rely on our power base offense," remarked Smith. He added, "we will also put an emphasis on special teams."